Did You Know We Grow Flowers?: Newsletter June 7, 2022
Flower Child's Dream
Hello Poppies and Snap Dragons! Our plots of flowers are booming with blooms! You may not be aware but a great deal of our business actually involves flowers. In the past we have even provided flowers for our friends and family.

We appreciate these blooms not only for their beauty, but for their role in attracting and supporting pollinators in our farm ecosystem. To catch one of our bouquets you can pick up in our farm store, grab some at the Lynchburg Community Market OR become part of our weekly flower share and get your own bouquet every Wednesday for only $10 per week!
CSA Products and News
WEEK SIX:
Don't forget to grab your pint of cherry tomatoes with your veggie bag this week! This is your weekly reminder that you can always add to your order through our website or by visiting our farm store between 3-5 Wednesday through Friday!
Vegetable Share Contents:
bunch of carrots
pint of cherry tomatoes
bunch of kale
head of celery
young summer squash
bunch of radishes
bunch of garlic scapes

Bread of the Week:
Baguette
Baguette is back-at-ette! Our version of the crusty classic, made with sifted wheat flour. Use this classic French bread for bruscetta, tear and dip in your favorite oil or make an extra bready sandwich. If you want to get creative, slice the bread lengthwise and spread with a roasted garlic and herb puree. Then sprinkle cheese on top and melt it in the oven!
What to do with wilted greens?
With the heat of summer creeping up on all of us, we are not the only species that can get fatigued. A lot of our produce struggles in the heat of the day. You may get home with a fresh bunch of Swiss Chard, Kale or even Bok Choy from the market and the most beautiful bunch you carefully picked is now wilted and soft. Do not despair!

The best thing you can do for your greens during these hot summer days is soak them in cold water. Even the ugliest bunches of greens can perk up within a few minutes. This process allows the dehydrated cells in your produce to absorb more water and replenish themselves. If your produce doesn't seem to be "drinking," cut the stems and place them back in the water. Just like a bouquet of flowers, the stalks will absorb more water and transfer it to the leaves.

Check out our example below. This Bok Choy suffered due to the 90 degree heat. After placing it in the cold water it not only perked up but it's color was restored!
Recipe of the Week: Hummus Dip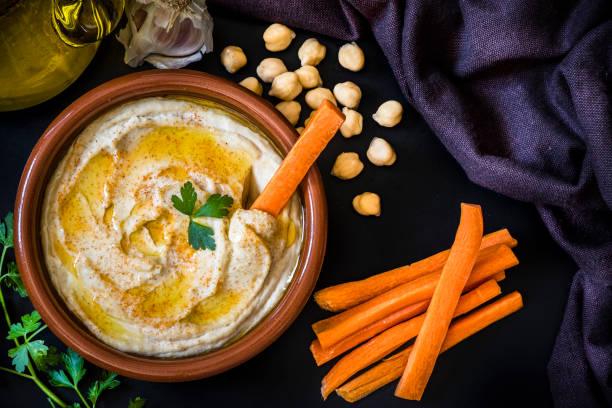 Ingredients:

1/4 cup olive oil
1/2 cup Tahini
2 tablespoons diced garlic scapes,
or 3 cloves garlic
2 (15 ounce) cans chickpea, drained
1/4 cup lemon juice
1/2 cup water
1/2 teaspoon salt
Parsley for garnish

Directions:
*This recipe is most easily made using a food processor. If you do not have one, I recommend using a masher!*
1. Combine the olive oil and tahini in food processor and blend until well mixed.
2. Add rest of ingredients to the food processor and blend until desired smoothness.
3. Garnish hummus with fresh parsley and serve!
4. Use fresh veggies such as celery, carrots, radishes, cucumbers, etc to dip! If you're in the mood for bread, smear it on a Baguette slice or use Pita bread to dip.