It's a Bloomin' Business: Newsletter August 23, 2022
Bloomin' Business

We have been excited to see such enthusiasm for our flower bouquets as of late! So much love and detail goes into us growing, harvesting and arranging the bouquets you take home. We want to make sure you are able to enjoy these beautiful blooms for as long as possible. With that in mind, please take a look at the instructions we've listed below to make the transition from our fields to your home easier on you and your flowers!*For easier viewing, make sure you click on the image*
CSA Products and News
WEEK Sixteen
Vegetable Share Contents:
Radish shoots
Green beans
Onions
Butternut Squash
Peppers
Basil

Bread Share: Rugbrød

At the far end of the spectrum, this is our densest, sourest, saltiest, most whole-grain bread! Traditional rye bread from denmark, made with sunflower seeds and flax seeds.

This one is made with a 48 hour fermentation and is the most digestible for those with gluten sensitivities who may be looking to try out a gluten-based bread again.

The salt and acidity help preserved the bread, which can sit out on the cutting board for at least several days.

Traditionally used for open-faced sandwiches, try toasting it and topping with butter, cold cuts, fish, pickled vegetables, meat, or sharp cheese.
Summer Weedin'

One of the main chores we dedicate our time to during the summer is weeding. To most it is a taxing, labor intensive annoyance, but to farmers it is necessary for good crop yield! Weeding is important in discouraging pests, and disease. Weeding also ensures the plants you are trying to grow receive all the necessary water, nutrients and space they require.
Because we are a sustainable, no spray, no tractor farm, you may wonder how we tackle the always present problem of weeds in our beds. The answer is we use our own two hands and the aid of simple, non-mechanical tools!

Long Handled Tools – ie The HookenCrooke, Wheel hoe, Stirrup hoe – Used for pathways or plant beds in which plants are spread apart. Generally done while standing.

Short Handled Tools – ie The Japanese Hand Weeder – Used for plant beds where plants are close together and weeds have shallow roots. These tools require the user to be kneeling or squatting.

Hand Weeding – When plants are very young, close together or the weeds need to be pulled up by the roots, we resort to our own two hands! This method allows us to be more precise and deliberate.
Recipe of the Week: French Onion Soup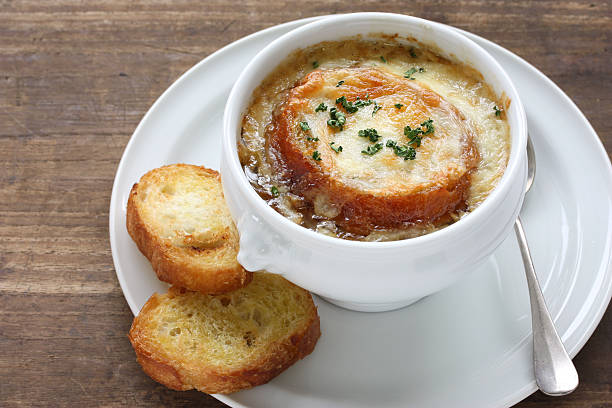 Ingredients:

3 lbs yellow onions
4 tablespoon olive oil
2 tablespoon butter
1 teaspoon sugar
2 cloves garlic, minced
8 cups beef stock
1/2 cup dry white wine
2 bay leaves
1 tablespoon fresh thyme
1/2 teaspoon black pepper
Salt to taste
8 slices of your choice Artisan Bread
1 1/2 cups grated Gruyere cheese

Directions:
1. In a large pot, heat 3 tablespoons of olive oil on medium heat. Add the onions and toss to coat with the olive oil. Cook the onions, stirring often, until they have softened, about 15 to 20 minutes.
2. Increase the heat to medium high. Add the remaining tablespoon of olive oil and the butter and cook, stirring often, until the onions start to brown, about 15 more minutes.
3. Sprinkle with sugar (to help with the caramelization) and 1 teaspoon of salt. Continue to cook until the onions are well browned, about 10 to 15 more minutes.
4. Add the minced garlic and cook for a minute more.
5. Add the wine and scrape up the remnants on the bottom and sides of the pot.
6. Add the stock, bay leaves, and thyme. Bring to a simmer, cover the pot and lower the heat to maintain a low simmer. Cook for about 30 minutes.
7. Season to taste with more salt and add freshly ground black pepper. Discard the bay leaves.
8. While the soup is simmering, toast the slices of bread you have decided to use for the soup. Do this by using the oven or toaster depending on your bread.
9.To serve, use individual oven-proof bowls or one large casserole dish. Ladle the soup into the bowls or casserole dish. Cover with the toast and sprinkle with cheese. Put into the broiler for 10 minutes at 350° F, or until the cheese bubbles and is slightly browned.

*If you prefer you can put the cheese on top and serve the toast on the side*