Let it Rot: Newsletter July 12, 2022
Kids on the Farm
It was such a pleasure to have the kids from James River Day School and Lynchburg Parks and Rec. summer camps visit the farm on Monday morning! 

We had a total of 22 kids visit to learn hands-on about natural farming and baking. We picked tomatoes, made salsa, ground wheat into flour, lit the oven, picked green beans, and of course spent some time with the farm dogs. 

It's always fun to share our work with young enthusiasm, and we are always impressed by the questions and knowledge these kids bring to the visit.
Fun Facts about Compost

Did you know we make a significant amount of our own compost on the farm? With all this summer heat and humidity, our piles are breaking down fast and we will soon have several cubic yards of black gold to spread on our crops. We use the tractor bucket to flip our piles two or three times and use a semi-permeable black landscape fabric to manage the temperature, airflow and moisture of the piles.

We know it is good stuff because it is crawling with visible insect life by the time it matures!

Our three main compost ingredients this year are:
Straw from our wheat and rye crops (see middle picture in the graphic above), Chicken bedding, which consists of 12 months worth of straw and hen droppings from the coop and Green material from the garden, including tomato and squash vines, flowering crops and some surplus crops we aren't able to sell

Here are a few more thoughts in case you are interested in composting your own food scraps at home:
The three main ingredients for compost are Nitrogen (green matter ie. plant materials), Carbon (brown materials like cardboard and sticks), water and air. 
Well-made compost does not smell bad! Though it is made up of decomposing organic material, if you add enough brown/carbon materials and provide the proper moisture and airflow, your pile won't stink.
You do not need a fancy container to have a compost pile.
Compost piles can heat up! With the buildup of gases, decomposition process and the organisms breaking down the materials, compost piles can get to over 150 degrees!
The pile will shrink by over half as it decomposes. 
If you're composting at home, you may not want to add grease, animal feces or diseased plants into your compost.
CSA Products and News
WEEK Eleven
Vegetable Share Contents:
Onions
Bulb Fennel
Bell Peppers
Summer Squash
Tomatoes
Radish Shoots
Green Beans

Bread Share: Miche
 Literally "loaf" in French, Miche (pronounced "meesh") is an extra large loaf of bread, typically made with some whole grains. Our version is HUGE, which makes for a beautiful loaf and may last your family the entire week.

We feature whole spelt, whole wheat, and a bit of rye to make for a very flavorful loaf. A crusty unsliced loaf with a spongy interior.
Slicing tip: cut the loaf in half first. Then place a half-loaf face down on the cutting board and slice from the crusty corner of the loaf downward.
Ingredients: Whole spelt flour, whole wheat flour, water, whole rye flour, sourdough starter, salt, malted barley.
Recipe of the Week: Ratatouille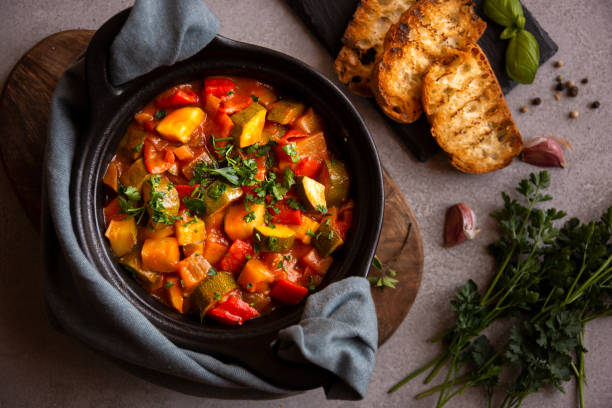 Ingredients:

1 medium Italian Eggplant 
1 medium onion 
2 sweet peppers (color is not important)
2 medium zucchini
2 medium yellow squash
1 pint grape tomatoes
1 teaspoon salt
1/4 cup olive oil
4 cloves garlic
1/2 cup dry white wine
2 cups diced red tomatoes (with juices)
1 bay leaf
1 tablespoon chopped fresh oregano
1/2 teaspoon red pepper flakes or 1 teaspoon minced hot pepper
Black pepper
1/4 cup fresh basil

Directions:
1. Place eggplant in a colander, sprinkle with salt and let drain while preparing the remaining vegetables 

2. Dice the other vegetables into 1/2 inch to 1 inch pieces.

3. Pat the eggplant dry with a paper towel.Directions Continued:

6. Heat 2 tablespoons olive oil. Add the eggplant, reduce heat and cook 3-4 minutes or until beginning to soften and is lightly browned. Transfer to a bowl.

7. Place more oil in the pan as needed between steps.

8. Add zucchini and yellow squash and cook 3-4 minutes or until beginning to soften and is lightly browned. Transfer to the bowl with the eggplant.

9. Add the onion and cook 4-5 minutes or until the onions begin to soften, adjusting the heat as necessary so the onions don't burn.

10. Add the red bell peppers and continue cooking another 3-4 minutes or until beginning to soften.

11. Add chopped grape tomatoes and garlic and cook 1-2 minutes.

12. Add wine, bring to a boil and cook 1-2 minutes.

13. Add larger red tomatoes, bay leaf, oregano and red pepper flakes.

14. Return eggplant, zucchini and yellow squash to the pot, reduce heat and simmer 20-25 minutes or until vegetables are tender.

15. Season with salt and pepper to taste. Remove bay leaf. Stir in basil.