Straw Mulchin': Newsletter May 31, 2022
Tomatoes are Here!

Thanks to our heated greenhouse, we have early season tomatoes now available for purchase at the farm store and Saturday market. Quantity may be limited so make sure you get there early OR order online to ensure you get what you need! Round out your order with some crisp cucumbers, squash and fresh herbs to start your summer off right.
Layin' Straw
As farmers we are always looking for better ways to improve the health and productivity of our crop. One way we are doing that this season is by spreading straw in a majority of our beds and pathways. Though we have used this method in the past with some of our crops such as garlic and peppers, we have not used it to this scale before. We are using wheat straw from farmer Nelson Brown just down the road, and so far we have seen great results from this new practice!

The benefits of straw are numerous. For instance laying straw…
Helps prevent weeds
Retains soil moisture
Prevents soil borne disease from transferring to the crops
Provides a dry layer of cushion for fruits & veggies (Squash, Melons, etc.)
Reflects sunlight, keeping the soil and crops from getting too hot (especially important in our greenhouses)
Adds nutrients to the soil after it decomposes
CSA Products and News
WEEK FOUR
Vegetable Share Contents:
Sugar Snap Peas
Garlic Scapes
Lettuce Mix
Swiss Chard
Collard Greens
Spring Onions
Dill

Bread Share:
Roasted Garlic.
A sourdough batard made with locally pressed sunflower oil and whole roasted garlic cloves. This loaf comes unsliced and toasts up extra crispy. Our most popular savory loaf and perfect for a grilled cheese BLT.
Recipe of the Week: Garlic Scape Bok Choy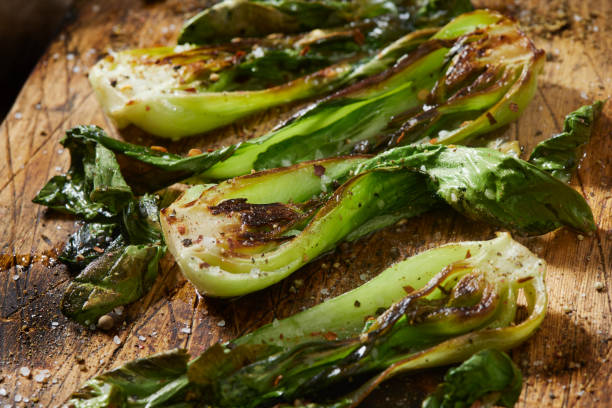 Ingredients:

1 bunch Bok Choy, cut in order to cook evenly
1 tablespoon vegetable oil
4 garlic scapes, chopped
3 tablespoons fresh scallions/green onions
1 tablespoon soy sauce
2 tablespoons water

Directions:

1. Heat oil in large skillet over medium heat
2. Add garlic and scallions. Cook until fragrant, about 30 seconds
3. Add Bok Choy, soy sauce and water. Cover.
4. Cook for four minutes, stirring once or twice, until bok choy is tender.