Root Washer

We finally got the chance to break in our root washer this past week! We got the washer in March but have not had a need to try it out until now. This simple machine cuts our labor time in half, allowing us time to see to other matters in bringing you the freshest produce around. 

Normally we harvest the carrots, banding the bunches in the field. We then bring them into our "pack out" where we wash all of our produce. There we remove brown leaves before hosing the root themselves. A normal washing for a carrot harvest for Saturday Market may take us 30 minutes to an hour. 

The washer works by using water pressure to spin the barrel. While the barrel is spinning, the root vegetables such as carrots, beets and radishes, tumble over each other. The water rinses off the dirt which falls through the cracks of the barrel. The barrel is set at a slight incline which allows the roots to fall over each other into a bucket. The process takes mere minutes. From there all we have to do is bag them for market! 
CSA Products and News
WEEK Twelve:
Reminder that we will be taking our yearly break the week of August 3rd! There will NOT be CSA or pre-order pickup on this day!!
Vegetable Share Contents:
Peppers
Summer Squash
Tomatoes
Pea Shoots
Cilantro
Green Beans
Garlic
Yellow Onions
Potatoes (grown using ecological practices by our friends at Little Hat Creek farm)

Bread Share: Roasted Garlic
 A sourdough boule made with locally pressed sunflower oil and our very own roasted garlic cloves. This loaf comes unsliced and toasts up extra crispy. Our most popular savory loaf and perfect for a grilled cheese or BLT.
Ingredients: Wheat flour, water, garlic, sunflower oil, sourdough starter, salt, malted barley.
Net weight 1 lb. 6 oz.
What's the difference between Green and Purple Basil
Sweet Basi
lGreen
Most common
Sweet but slightly spicy flavor
Most commonly used in European and American dishes
Strong citrus fragrance

Purple Basil
Purple
Higher concentration Anthocyanin or purple pigment
Commonly used in Asian cuisine
Larger leaves
Best used fresh due it's blackening appearance once cooked
Strong clove flavor and sharp smell
Recipe of the Week: Classic Fresh Omelette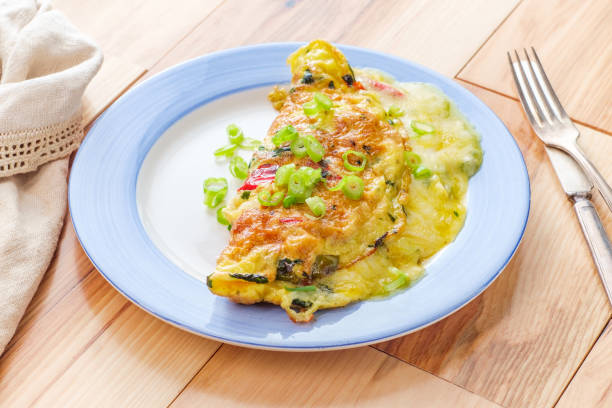 Ingredients:

1 tablespoon butter
4 eggs
1/8 cup milk
1 tablespoon pancake mix
1/2 cup grated cheddar cheese
1/4 cup fresh green pepper
1 tablespoon chopped jalapeno
1 clove garlic
1/8 cup finely chopped onion
1/4 cup diced tomato
1 tablespoon finely chopped basil
Salt 
Pepper
 Directions:
1. Melt butter in a skillet on low heat.
2. In a small bowl, mix together eggs, milk, pancake mix, salt and pepper
3. Once butter is melted, add egg mixture to the skillet. 
4. Allow the egg to cook slowly. When the bottom begins to firm up, add the cheese and let it melt. 
5. Once cheese is melted, add the green pepper, jalapeno, garlic, onion, tomato, and basil. 
6. Use a spatula to lift the bottom of the omelette. When the bottom is becoming golden or holds together well while being lifted, slide the spatula half way under the omelette. Slowly and carefully flip one side onto the other. 
7. Omelette is ready to eat once folded! This size omelette is perfect for two people. Try adding sriracha or hot sauce to your finished omelette!