Potluck TODAY!
We are hosting the monthly Land & Table gathering today June 21. Come join us at 6PM for food, fellowship and a tour around our vegetable and grain fields on the longest days of the year. Bring a healthy dish to share!

Please note this event is at the FARM at 2261 Thomas Jefferson Rd in Forest, not the Farm Market.
Grain Harvest Begins
You may have noticed a reduced bread selection the past few weeks, and this week we will not have any bread for sale. This is because Michael is working long days to harvest our acre of wheat and rye plantings, which are looking very promising! We received funding from the Southern SARE Producer Grant program to pilot a system of growing cereal grains in rotation with our vegetable crops. 

We love these crops not only to eat, but also because they have very deep root systems and produce lots of biomass that eventually decomposes into soil organ matter. Harvesting these crops is a challenge on a small scale, so with this on-farm research project we are trying to determine if we can produce these grains with fewer specialized tools. 

The first step is to cut the stalks by hand, bundle them up and stack them in the sun to dry out. We are very thankful for the windy, low-humidity weekend that dried things down fast! Once the stalks are dry, we put them through a small threshing machine we are renting from a friend to separate the grain from the stalk. This produces seed that is almost ready to mill, as well as LOTS of straw we will use to mulch our vegetable crops.

So far the grain quality is looking excellent, so be on the lookout for homegrown flour and bread in the coming months!
CSA Products and News
WEEK Eight
Vegetable Share Contents:
Golden Beets
Cherry Tomatoes
Zephyr Squash
Green Beans (Rattlesnake)
Spring Onions
Kale
Mighty Mix

Bread Share: Herb Cheddar

Seasonal herbs (garlic scapes this week), raw organic cheddar from grass-fed cows, and local sunflower oil.

This loaf comes sliced. Excellent for eggy-on-bready breakfast and toasts up very crisp thanks to the sunflower oil.

Ingredients: Wheat flour, water, cheddar, sunflower oil, sourdough starter, herbs, salt, malted barley.
The Only Z-Veggie 
Zucchini is in season! In fact, thus far we have harvested over 250 pounds of the summer squash! From being a great replacement for the common pasta to having more potassium than your average banana, there is a lot that can be said about this Italian squash variety. The Zucchini flower is edibleZucchini has only been in the United States for 100 years. It is believed to have been brought over from northern ItalyIt makes a great bread ingredient!Ever wanted to try Ratatouille? Guess what's an ingredient in it? Zucchini!The largest Zucchini on record weighed 65 pounds and measured nearly 70 inches longGreen is not their only color! There is also a yellow varietyThey are 93% water. That is just 3% less than cucumbers which have the highest water content at 96%
Recipe of the Week:
Homemade Sauerkraut 
Ready in time for Fourth of July!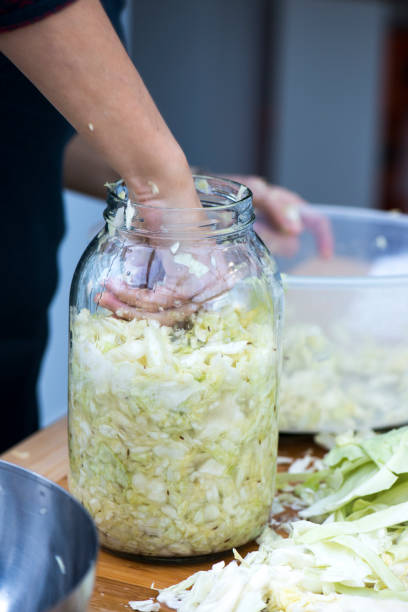 Ingredients:

1 medium head of cabbage (2-4 pounds)
1 1/2 teaspoons of salt per pound


Directions:
1. Clean your cabbage by removing the outer leaves. Set aside one outer leaf that is in good condition. Weigh your cabbage so you know how much salt to use. Cut your cabbage into quarters and remove the core. Shred the cabbage into desired sized ribbons using either a knife, a food processor or a grater. 
2. Combine the shredded cabbage and salt in a bowl. Let sit for about 15 minutes. The salt will cause a lot of water to leach from the cabbage.
 3.Mix with your hands until the cabbage has released a lot of water and have become soft/wilted. This will take 5-10 minutes. 
4. Pack your cabbage into a clean quart-sized mason jar. Wide mouth is better for the next step. Make sure the cabbage is packed in tightly. Pour liquid from the cabbage bowl into the jar ensuring there is enough to completely cover the cabbage. If more water is needed, mix 2 teaspoons of salt with 1/2 cup water and add as much as is needed to cover the cabbage. 
5. Cut the cabbage leaf you set aside so that it fits within the jar. Use this leaf to cover the cabbage. Next you must weigh the cabbage down. You can use a smaller jar, a glass bowl, a ceramic ramekin, etc.
6. Seal the jar and set it somewhere out of the way, at room temperature. Make sure to open the jar on a regular basis, ie every other day, to release air pressure in the jar and to ensure the cabbage remains covered.
7. Your cabbage should bubble when fermentation begins. It will change colors from green to a pale yellow. It can take anywhere from one to two weeks for fermentation to be complete meaning it will be ready just in time for your Fourth of July hot dogs!